About Us
A history of passion
Our journey as a family-run business started in a cash-and-carry store in Montreal in 1986. Since then, we have achieved exponential growth and evolved to become one of the major importers and manufacturers supplying the food industry worldwide.
In just a few decades, we established our name as a leader in the food industry, providing businesses in North America and around the world with a rich variety of over 1500 food products, sourced and produced both locally at our state-of-art manufacturing facility and globally. Our offer includes nuts, dried fruit, seeds, grains, organic food, and much more.
Since 1986, we have devoted ourselves to quality products in diverse food categories. We have taken pride in bringing innovative food products into the Canadian market, the U.S. market and other major world markets. From strong and collaborative relationships with our suppliers, we have built a strong reputation as a company that cares and carries quality food products. We are determined to be the name you trust to help you grow your business.
At Tootsi Impex, we also supply a vast range of wholesale food services based on vertical integration, including co-manufacturing, sourcing, logistics, custom packaging, and warehousing at our facilities in Canada and the U.S. Furthermore, we have an internal Quality Assurance team of food industry experts that diligently looks out to the quality and the safety of our food products.
OUR MISSION:
To provide quality food that delights and inspires innovation as well as diversity.
OUR VISION:
To be the go-to food source destination for snacks and ingredients from around the world.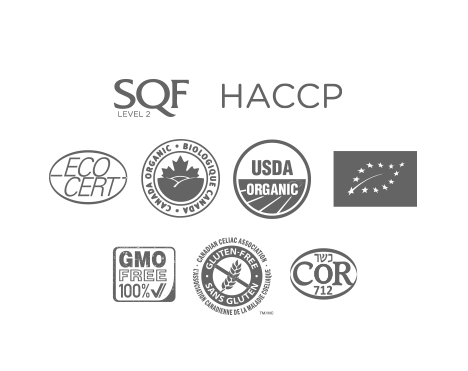 Quality is everything to us
At Tootsi Impex, we have made it our business to value your business. We are determined to deliver exceptional quality food products you can rely on.
It begins with trusted food suppliers who stand behind the quality of their product. It evolves to a Quality Assurance team dedicated to safeguarding our product integrity throughout the food chain. Our team is continually striving to improve and exceed our standards, from the moment food products enter our warehouse.
Our facility is HACCP and SQF certified. Every part of our plant, including equipment and production lines, is kept to the highest standards of cleanliness on a routine basis.
In addition, our facility holds organic, kosher, and gluten-free certifications.
We also offer non-gmo and allergen-friendly products.
Proud member of the following organizations:
CHFA, INC, CPMA, CIFST, UGI, Group Export

Premium food products from around the world
From California almonds to Japanese matcha green tea, we source our products from the very best and the most reliable sources in the world. Escape to the Amazonian rainforest with our açai berry powder, or journey locally to enjoy our Canadian cranberries and sunflower seeds. Either way, you will taste the difference that superior quality makes.
We are honoured to offer you a wide variety of food products. From nuts to dried fruit, seeds, grains, organic food and specialty ingredients, all our products speak for the regions they come from.
Our team takes pride in their constant search for excellent food products that are both innovative and unique, as well as pantry staples you can trust.